BlyncSync.TECH: A Driver Fatigue Monitoring System To Avoid Accidents
Within recent years, the rate of accidents in the trucking industry has been on the rise and one of the major causes is driver fatigue.  BlyncSync.TECH is a unique startup that is addressing this issue through innovative wearable technology and machine learning. In this interview, Austin Green, CEO and Co-Founder, BlyncSync.TECH, tells us more about this Oklahoma-based company.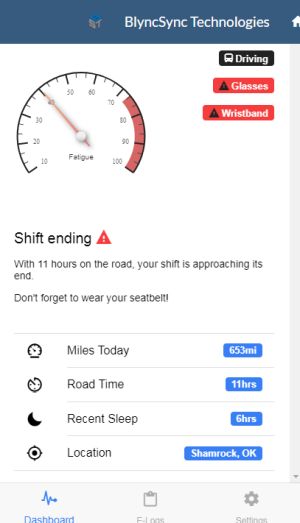 Tell us about BlyncSync. How did you get the idea to work towards monitoring driver fatigue?
BlyncSync Technologies is a software safety platform for the trucking industry. Our platform hosts multiple biometric wearable devices that display exactly when a truck driver can expect to feel fatigued. The software custom tailors itself to each individual driver through machine learning.
BlyncSync Technologies is currently in alpha stage. It supports a fitness wristband and biometric capable transition-lensed sunglasses. Sleep stage data from the wristband is combined with facial recognition work hours data in order to provide real time and projected fatigue levels. The software becomes more accurate to the individual driver over time as he/she continues to wear the devices.
The driver fatigue data provided can be used as a safety tool by managers and truck drivers to assist in optimal shift scheduling, boosting work efficiency, reducing overall accident risks, and realizing cost savings. Drivers tend to prefer our system due to its less invasive nature when compared to competitors. Not only that, drivers enjoy the added benefits of sleep awareness, health and fitness data, and an extra liability defense mechanism.
The everyday driver experiences fatigue often while at work and that was where our research started. We wanted to solve a problem that not only affected truckers but also everyday drivers. We are very passionate about this idea because we have family and friends in the industry that face fatigue as well as attention and distraction problems every day.
BlyncSync.TECH is a young business! Is this your first venture?
BlyncSync may seem young but we have been doing research in the space and the industries it affects for years before we were legally a company. Most of our team members have worked with startups earlier and are familiar with the process. Before this, I was a student at the University of Oklahoma studying for dual degrees in Finance & Entrepreneurship. It was then that we first started researching on driver fatigue.
2017 has been very busy for you guys – you were at SXSW, E-Capital Summit and then Collision! How has the event experience been so far?
Attending conferences has been an incredible experience. Not only do we get to make tons of good connections within our industry and relevant industries, but we also meet lots of people doing incredible things in other fields as well. We are blessed to have had the opportunity to attend these conferences and hope to continue attending them for years to come.
What have been your key takeaways from exhibiting at these events? What advice would you give to startups exhibiting for the first time at a fest?
These events have taught us how important networking is for a young and growing company like ours. We have also come to understand the necessity of getting out there to get exposed to the latest in the industry so we can loop in the current trends into our own startup. It was due to these events that we realized that our product is of use in more industries than we originally thought of. Another huge advantage of being at these events is the potential of possible partnerships that are fruitful for the business.
What are your future plans?
BlyncSync will be market ready in 2018. That's when we will serve major truck carriers in the US, and then we will expand internationally in the following years. BlyncSync is a smart device platform. The wearable market is growing rapidly and we will leverage modern technology to enhance our safety system. This will empower us to benefit numerous industries such as oil rig operations, chemical plants, aviation, rail transport, and ocean freight.
www.BlyncSync.TECH is part of Startup League, a growing global community of startups looking to leverage worldwide events and tech fests to get exposure to investors, partnerships, influencers and media.

If you have a startup, you, too, can avail some amazing benefits through Startup League, a support program designed for you! For details, visit www.startupleague.online or write to leaguesupport@radix.email.