Enhancing gameplay communication, one Gliq at a Time
Gameplay communication can be super easy with avant-garde chat rooms, capable of hosting up to 30 players simultaneously. Gliq's voice chat offers private rooms and group rooms, enhancing the collaborative fun of intense gaming. Know more about the platform, its conception and future plans from the founder James Chamoun.
What inspired you to start Gliq.tech? Tell us the story.
Gliq was basically an idea that I came up with when my friends and I were playing an intensely competitive game and our party chat got interrupted on PlayStation. The NAT Type errors are very common within consoles, and that was the error we used to struggle with and would still do if Gliq didn't exist.
One day, after had had enough, I jumped on my computer and started sketching Gliq with the intention of creating seamless gameplay communication. Soon enough,  I started developing the iOS version, feature by feature. I realized that it was turning out to be a huge project for a 15-year-old high-school student. It seemed way too time-consuming. It was then that I decided to hire Nova4, one of the best development companies in Lebanon, and that's how we developed Gliq!
Do you offer a niche solution to the gaming industry? 
What we offer is basically a combination of multiple essential features for gamers, which means we are hitting every single niche in our industry. The gaming industry is worth billions of dollars, so instead of just focusing on one feature and one problem, we created an all-in-one social media platform for gamers, available to them for free!
What is Gliq.TECH's competitive advantage? 
What makes us unique and differentiates us from our competitors is the seamless experience of the combination of the features that we offer. Our competitors are huge, some of the most popular ones are Twitch.tv, the Xbox SmartGlass app, and Discord. They all have tens of millions of users but what still works in our favour is that we are available for every single gamer out there, and not exclusive to a specific platform or console. The addition of the comprehensive features that we offer over and above gameplay communication also gives us an advantage over them.
Could you share 5 tips with startups in the gameplay communication space? 
Focus on what users need, not what's popular, then make popular what they need.
Create a platform available for everyone. People hate exclusives.
Stay simple, it's all about the seamless and smooth experience.
Know your market and competitors, and set milestones way higher than theirs.
Carve out the future, introduce technology that has never been seen before.
What are your future plans for Gliq.TECH?  
Our future plans for Gliq are to introduce bets, create a web version of the app, and potentially broadcast exclusive ESports tournaments.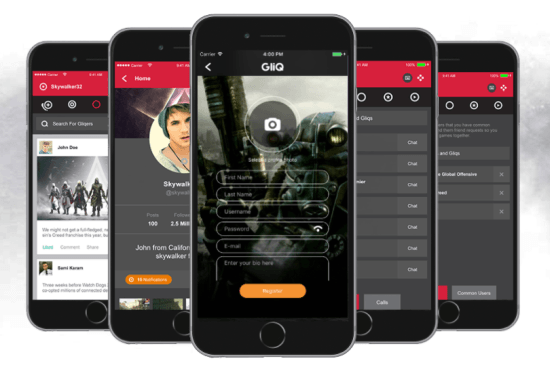 Why did you choose a .TECH domain name? 
.TECH clearly is the future! While most startups register a .com domain, there aren't going to be any available, which will popularize .TECH. Not to mention that it also represents the core industry of my startup, i.e., technology.
Gliq.Tech will be exhibiting at Collision 2018 with a 100% sponsorship from the Startup League, a growing global community of startups looking to leverage worldwide events and tech fests to get exposure to investors, partnerships, influencers, and media.
If you have a startup, you, too, can avail some amazing benefits through Startup League, a support program designed for you! For details, visit www.startupleague.online or write to leaguesupport@radix.email.