What's the difference between domain name, website and web hosting?
A website is a tool that every business should have. However, before you build your website, you need a domain name. If this is your first time making a website, there are some terms that you'll need to be familiar with.
In this article, we'll be going over the terms domain name, website, and web hosting and how they differ from one another.
What's a Domain Name?
In a nutshell, a domain name is what a person enters in the web address bar of the internet browser to access a website.
For example, startupleague.online is the domain name of this website.
When you start a website, you need to create a domain name. However, it might be hard to find a good domain name since millions of them have been registered already. If you're going to create a domain, always remember to craft something that's short, easy to write and remember.
Since finding a good domain name can be hard, many businesses are opting to choose different Top-Level Domains (TLDs) instead. A TLD or domain extension is the last part of your domain, which traditionally used to be a .com.
Today, of course, you might want to use something more innovative that aligns with your business or industry such as .store, .fun, or .tech.
By Aman Masjide Buying a domain name is a simple process, right? Just find the one that you like (and is available) and bam! Make the payment and it's yours. Well, it's not that simple actually.
Buying a Domain Name
Once you've found your desired domain name, you'll need to purchase it from a domain registrar. It is advisable to choose a domain registrar that best suits your needs and comfort to buy and register a domain name for your business' website, preferably one that offers additional services.
Some of the more popular domain registrars are GoDaddy and Namecheap.
Domain registration is a fairly straightforward activity that doesn't take more than a few minutes. However, there are a few things that you should be aware of when you buy a domain name.
When you register a domain name, you don't own it forever; you'll have to renew it every year. You can opt for longer contract terms (up to 10 years) if you don't want to renew it every year.

Should your domain name expire, it will be difficult (or even impossible) to get it back again.

Sometimes, the registry that owns the domain extension that you're using for your domain name might have their own rules for registration (e.g. location specific, website topic or profession).
New domains and SEO. What is the connection between the two? nTLDs offer a great opportunity for businesses and individuals to get a domain name that they desire. Find out what users have to say about the impact of new domains and SEO.
What's a Website?
Now that you have a domain name, you're going to need a website. If you're not familiar with what a website is, it's basically a page or a series of related pages that loads up after you type in a domain name in the internet browser.
Building a Website
Back in the day, making a website meant having to know how to code or hiring a developer to do all the 'construction' work.
While you can still choose to hire a professional or learn to code yourself, it's definitely not a necessity anymore.
With website builders, you can easily build a website that looks professional without requiring any formal web expertise whatsoever.
Different website builders might have their respective systems or tools but generally, the process will look a little like this:
Choose a template for your website

Customize the text, colors, fonts, and images

Add any additional functionality and widgets (google maps, product gallery, social media buttons, etc.)

Put in additional pages if necessary
Put all these steps together and by the end of it, you'll have a great looking website for your business. Now, depending on how much effort you're going to put into in each step, these can take either minutes or days. Generally speaking, it should be relatively quick to put together a working website.
Much like your office space, your website too, is a prominent asset of your business. And since your workplace needs a touch of improvement every now and then, your website too needs timely new frills. It's always a smart decision to make a few quick changes and additions to your website to stay with the times and improve the way your brand interacts with customers.
What's a Web Host?
When you create a website, you'll need a place to store all of the files somewhere. A web host, as the name suggests, will host all of your website's data and content so that it becomes accessible to people over the internet.
While your website might be digital, the files will need to be stored on a physical hard drive and requires a server to be accessible on the internet.
Finding a Web Host
From premium web host services to specialized WordPress hosting, there are plenty of hosting providers available on the internet. The trick is to find the best website hosting for your website's needs.
Most template-based website builders will provide an option to host your website for you, which makes things easier. If you're starting your website from scratch or you've hired a developer to create a custom website, then you'll need to find your own web host.
With different types of web hosts available, it's recommended that you find and choose the one that's easiest for you to work with.
For small websites, a shared hosting plan is recommended as they are affordable and they get the job done.

If you need a better server performance, you might consider using a VPS or Cloud server hosting.

For those with enough budget, a dedicated server hosting is the most powerful option but also the most expensive.
Here are a few web hosts that we recommend for you to check out:
InMotion Hosting

– With more than 15 years of experience, InMotion Hosting offers a variety of hosting plans for small-to-medium sized websites. They also offer VPS and dedicated hosting for sites with larger files.

SiteGround

 – A solid hosting company, SiteGround excels in providing innovative server features and a top class live chat support. They are a great hosting provider for businesses who want a worry-free hosting solution.
All these terms might sound daunting if this is your first time making a website, but it's very simple once you get the hang of it. For newbies, choosing a hosting company that offers both hosting and domain name services will make it simpler. If you're confident enough, try to shop around for the best deals on domain names, web hosting, and website builders.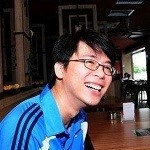 Jason Chow is an outreach manager for WebRevenue.io, where the website is providing content and marketing for startups and online businesses. Jason is also a marketer – he likes to read about news, internet marketing, and startups. You can get in touch with him on social media via Twitter.