4 Areas of Growth Hacking for Startups To Succeed Effortlessly
When Sean Ellis introduced the term "growth hacking" in a 2010 blog post, little did he know that Growth Hacking will become the "it-thing" of the tech industry for many years to come. For an industry, full of companies with rather scarce resources and high ambitions, growth hackers became the most appealing employee-type for any startup. Rapid growth, low-cost solutions, and impressive results are all a part of a successful growth hacking strategy. 
Why Does Growth Hacking Need Tools?
If large companies can afford to invest in traditional and proven marketing channels – TV ads, print, BTL – smaller businesses and startups will have to be more inventive than that. SEO, paid advertising, content marketing are all parts of more cost-effective digital marketing tactics, often employed by growth hackers. However, no growth hacker can do their job on their own. This is when various tools enter the stage. Keeping in mind that cost efficiency and high results are cornerstones of growth hacking strategies, it is more effective – in both outcome and expenditure terms – to find a platform that combines tools for helping growth hackers with their diverse channel penetration. Thus, a tool that can offer an all-encompassing solution for SEO and digital marketing is an essential part of every growth hacking effort. 
Growth hackers are expected to cover areas, ranging from SEO and PPC to social media and video advertising research. There are plenty of ways you can leverage data from various instruments. However, we will uncover 4 areas of importance to your growth hacking efforts and ways in which growth hackers can benefit from using different tools.
#1: Do a Competition Analysis for Keywords
Competition research and analysis is the founding ground of any marketing strategy. You should really do your homework before you fetch up a strategy of your own. Why? Your successful rivals have already done, at least, half of the job for you. Thus, there's no need to reinvent the wheel. And when it comes to keyword strategy – given that you have a common target audience and keywords to tackle – looking at your competitors' keyword strategy performance is a must.
Hack: Find your competitors' most profitable keywords and exclude the ones that aren't paying off.
Paid Advertising, especially AdWords, is a quick and efficient solution to your digital marketing challenges. However, you have to be smart and data-driven to make sure that you aren't investing in inefficient keywords. Losing money is not an option when it comes to growth hacking. Cost-efficiency target won't let your company conduct various experiments and tests. Thus, targeting keywords that have already worked to your rivals' benefit is the solution.
Which tools can help: With SEMrush, LongTailPRO and Similarweb, you can conduct a research for your competitors' keyword strategy by tracking your competitor's website from within the platform. Knowing how much they are willing to pay per click for each keyword and how it pays them off with traffic, will allow you to focus on keywords that perform the best.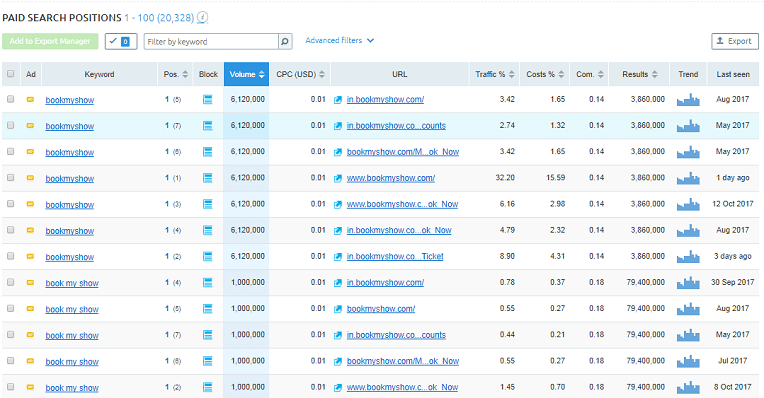 A little extra: Highlight keywords with the highest volume and the lowest CPC and add them to your AdWords campaign. Make sure that you are not ignoring long-tail keywords – for knowing which words you should combine your "key" keyword with is as important as knowing which keyword to target in the first place. Certainly, targeting the same keywords does not necessarily mean that you will end up having a similar performance.
However, SEMrush along with tools like Whatrunswhere also allow you to spy on your competitors' ad copies and try to spot some patterns – what kind of ads, copies, images attract the most traffic. If the value proposition is what appeals to your rivals' customers, offer one. If it is the power of the image or a witty text that works, make sure that you take a similar path.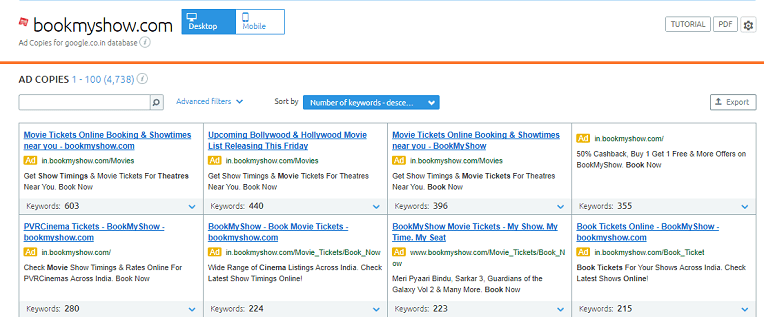 #2: Find Ad Placements
Some ad placements may cost up to millions of dollars. And this is not what your company is looking for. You can never be sure which publisher you should focus on. And here is when competitor research becomes important once again.
Hack: Take a look at publishers your competitors are advertising with.
As we mentioned above, revealing your rivals' best performing keywords and ad copies is the very first step in your digital advertising success. However, knowing where you should be placing your ads is equally crucial to your overall performance. First of all, you should aspire to be present where your competitors already are. Secondly, when you are focussing on your most successful competitors, you should assume that they already know which channels (blogs, media outlets, other domains) are the best for placing their ads.
Which tools can help: Moat, a tool specifically designed for competitor ad analysis, or the SEMrush's Display Advertising report, both present an overview of your competitors' display advertising campaigns. This is where you can find a "Publishers" tab with the full list of domains where your competitors place their ads. You can compare publisher lists from various competitors, and when you spot certain similarities, you will understand that this is where you should be, too. If your competitors are boosting their traffic with clicks from certain domains, this is an opportunity you cannot miss out on.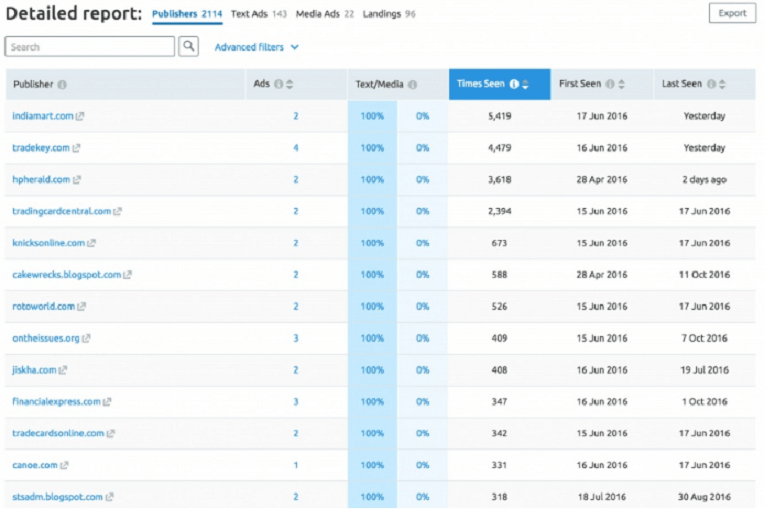 Another area you should pay attention to is the number of impressions your rivals get from each publisher. Impressions are the biggest factor for ad placement decisions. Moreover, you should find out ad types – text ads or media ads- that your competitors are investing in.

Different ad types work better in different domains, so knowing what your competitors are doing for each ad campaign will spare you from some disappointments. Eventually, make sure that you aren't merely yet another advertiser. Establish partnerships, enhance your link building efforts with the right outreach strategy, and the list can go on.
A little extra: A compelling ad is the first layer of a successful advertising campaign. The second one is the landing page you are sending potential customers to. It is one thing to secure a high clickability and a different thing to ensure conversions.
#3: Invest in a Content Strategy that Already Works
It is not out of the blue that some content marketers are called content hackers. And if the content is already commonly perceived as the most sustainable and well-performing digital marketing channel, you should funnel your efforts on the most successful content types out there.
Hack: Analyse your competitors' content strategy, and identify the content types that lead to more value for their websites.
Shares, likes etc, can be perceived as vanity metrics, but not the links. Links are what your content marketing efforts should really tackle. One way to bring in organic traffic, a very important aspect of growth hacking and digital marketing, in general, is to optimize your pages for certain keywords. The second option is to have backlinks from high authority sites. This is what SEO experts call "link building opportunities".
Thus, what you should do is to find out what type of content has attracted the most links to your competitors' websites. What's next? Make sure that you are trying out that very same path. While you can try to do this job by yourself, the amount of time you can lose is unacceptable.
Which tools can help: It is almost impossible to keep track of competitors' backlinks manually. Thus this is when SEMrush, SpyFu, Monitor Backlinks or any other backlink monitoring tool can come to your rescue. What you need is the help to find out where your competitors are getting their backlinks from. Moreover, you can also track the number of links they get from each domain. However, not every domain is worth targeting, for when it comes to backlinks, domain authority plays a big role. You can always take a look at what type of content gets your rivals the most backlinks from high authority sources.

The next steps are up to you! You can either use Brian Dean's Skyscraper Technique or come up with a creative approach of your own and create content that websites, which already link back to your competitors, will be willing to publish (with a backlink, of course).
A little extra: Although likes and shares, and generally, the most kinds of Social Media performance metrics are not as valued within the SEO and digital marketing community, you should always keep track of them, too. Your content strategy should always keep in mind what kind of content resonates highly with your target audience. The SM and content marketing industry giant Buzzsumo, SEMrush's Social Media Tool, or Brandwatch allow you to analyze your competitors' Social Media accounts and pinpoint content types that attract the biggest engagement.

And since you have a common target audience, knowing your competitors' success content tactics will help you identify your customers' preferences and provide them with relevant and valuable content.
#4: Boost Traffic From Your Profitable Keywords
While competition analysis should be a big part of your growth hacking strategy, do not forget to look at your own data to find loopholes for more success. When fetching up a keywords strategy, you should also identify what keywords work in general, but do not perform well with your efforts.
Hack: Discover profitable keywords that you are already targeting, but not seeing large traffic from. Pick webpages that are optimized for these keywords and improve their SEO to boost rankings.
Essentially, keywords that have a high CPC are attractive and, thus, competitive among other bidders, which means that they are profitable. Thus, by optimising pages that aren't seeing high ranking but are optimized for high CPC keywords, will bring in more traffic.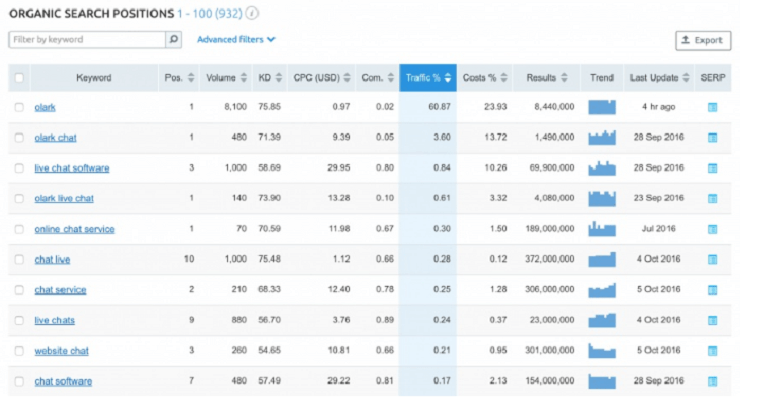 Which tools can help: Searchmetrics and Majestic SEO can help you identify your entire organic search keywords, while with SEMrush you can use filters to display pages, according to your chosen parameters – position and CPC. Choose pages with the lowest rankings and CPC higher than $X and identify keywords you should draw your attention to.

High keyword cost often means that these keywords should be highly converting. Keywords that are expensive and bring in low traffic can potentially be more profitable, given you start your optimization efforts right away and see some ranking improvements. 
Conclusion
There is a lot of pressure when you call yourself a growth hacker and get employed by an aspiring new company. You are expected to provide continuous growth, a rapid boost to all aspects of customer acquisition and conversion, and, at the same time, make sure that you keep your expenditures to the minimum. Thus, being bound by fewer team members and lower budget, you have to be wise in picking the right tool that can cover areas you are supposed to work on to provide the expected outcomes. Be it an all-encompassing tool or any other area-specific instrument, tools can really boost your performance and ensure that you are making data-driven decisions.
We've only covered four areas of growth hacking, while there are many more that can be enhanced with various tools. Let us know in the comments if you want us to reveal some other growth hacking tactics and provide you with the ways in which the right tool can come to your rescue.