..And we are going to RISE!
July is almost here and we are gearing up for Hong Kong! Yes, we are super thrilled to share that we have partnered with the RISE Conference – which is one of Asia's largest, and perhaps the coolest, startup conferences, slated to be held from 11th to 13th July in Hong Kong. 
Last month, we announced that we would be giving 100% sponsorship to select startups at RISE, and subsequently have received over a hundred applications from startups vying for the coveted spots! Of those, we (the Startup League and the team at RISE) have chosen 5 innovative and exciting startups! The selection process itself was super-exciting and connected us with so many amazing startups and entrepreneurs!
The 5 startups that were thus selected make for an interesting mix:
www.loop.space from Singapore

 is an exciting startup focussed on providing the best coworking spaces globally, as a platform for users to work and travel wherever they want.

www.habhub.tech

 from Hong Kong is a platform to build a functional and effective support system for patients to receive proper rehabilitation at home.

www.chatcampaign.tech

 from Hong Kong is an automated chat message platform aimed at reducing re-targeting cost for smaller businesses.

www.sunami.tech

 from India is a free SMS organizer/messenger app for Indian smartphone users to stay away from SMS spam.

www.boutir.store

from Hong Kong is a mobile-commerce platform dedicated to sellers who want to build a website for their business and free themselves from expensive transaction & listing fees of major marketplaces.
The ALPHA package includes 100% sponsorship for an exhibition booth, 3 attendee passes, access to investor meetings, mentor sessions, and workshops. The selected startups will also receive free T-shirts for their team; coupled with a bouquet of goodies customized with their startup's brand, as well as strong marketing support and media shout-outs!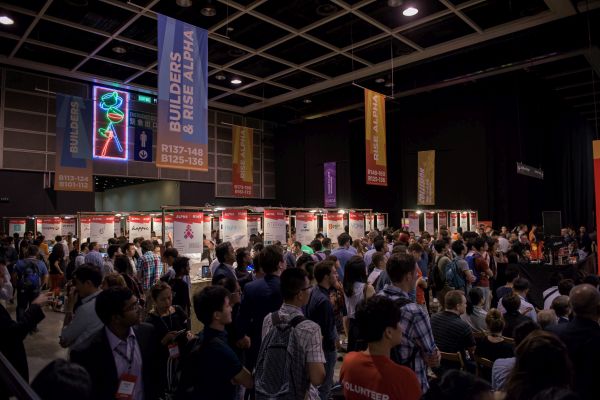 That's not all! Five more startups will be exhibiting at RISE with 25% booth sponsorship from the Startup League:
Isn't that a great bunch of innovative startups we have on-board?! So, if you are visiting RISE as an attendee, do meet us and these amazing startups in the exhibition arena!
In the past, the Startup League has sponsored startups at reputed fests like TechCrunch Disrupt, TechDay NY, SXSW, to name a few. Currently, over 85 startups from 25+ countries across the globe are part of the League and have been empowered to showcase themselves to key investors, mentors, and influencers at global tech fests and events.